Embedded Value (EV) or Market Consistent Embedded Value (MCEV) describes the value embedded in the business. This is typically mostly used in the life business because of the longer term of the insurance contracts.
The traditional measures are not always accurate. Hence the need for MCEV.
Balance sheet
The balance sheet measure assets & liabilities. Because of that it does not really take into account unrealised gains and losses.
Profit & Loss
There might be a high profit but at the same time value destruction. For instance because of:
High lapses in one year bring high profits due to surrender penalties, but after that it will be worse.
A loss is reported but value is created. For instance:
High new business volumes in one year bring high acquisition expenses
with consequent losses, but this will be recovered in the future.
Premiums
Earned premium amounts does not show full picture either, as a result this also needs to be considered,
Low volumes – high margins
High volumes – low margins
Duration
Financial options and guarantees
Required solvency capital
Embedded Value
Value-based measure.
Analyses difference between assumptions and experience.
Independent of statutory accounting.
Includes value of new business
The relation can be written,
NAV + VIF = MCEV
where
NAV = Net Asset Value
VIF = Value of In-Force business
Net Asset Value
The company's net assets adjusted to reflect the market value of the
related backing assets. That is, in short, assets minus liabilities.
Value of In-Force business
Present value at valuation date of future profits (after taxes and
reinsurance) expected to emerge from contracts existing at valuation date,
after allowance for the cost of financial guarantees and options, the cost of non
financial risks and the cost of holding the required capital.
Traditional VIF is expressed as,
VIF = PVFP – CoC
where
PVFP = the Present Value of Future Profits
CoC = Cost of Capital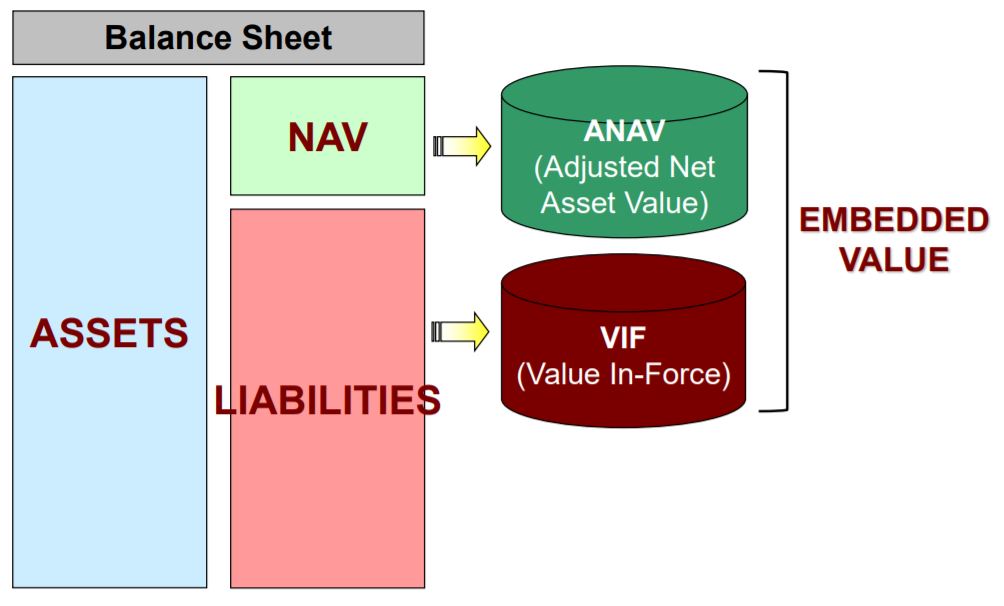 Economic Assumptions
The most import assumptions here is usually the discount rate and the exchange rates. Hence these assumptions are usually valid outside the specific company.
Non-Economic Assumptions
Examples of non-economic assumptions are mortality rates, lapse rates and surrenders.
European Embedded Value (EEV)
The European Embedded Value has a few standard principles, these are:
requirement for stochastic evaluation of financial guarantees and options.
disclosure of sensitivities and analysis of movement.
several areas of current best practice, including disclosure.
on methodology and assumptions used.
Investors
For anyone interested in buying stocks or buying a whole company the embedded value is an important measure. One way to measure the current stock price is to divided the embedded value with number of outstanding shares. If share price is above the embedded value per stock than future growth is usually already taken as certain by the investors in the stock market.