Introduction
IFRS 17 is fast approaching. Let's be ready. As a background IFRS 17 is replacing IFRS 4 on insurance contracts. The project has lived for some 20 years already.
Find out what's it all about and how it will impact the insurance business. The practise around the standard will still have to evolve once it is adopted. That phase is usually driven by the key players in the market and their auditors.
Summary (fun facts)
The standard was issued 2017 and coming in to force 1 January 2021.
The fairly long time for implementation reflects the expected effort needed from insurance companies to adopt the new standard.
The new regulation combines a normal balance sheet measurement with recognition of profit over the period of the insurance contract.
The general model within the standard requires liabilities to be measured using probability-weighted estimates of future cash flows. Then adjusted for risk and with a contractual service margin representing expected profits.
Changes in future cash flows are recognised over the period rather than immediately in profit or loss.
It includes specific adaptations for insurance contracts with participation features. And for reinsurance held.
In addition there is simplified model that can be used for instance for contracts with a coverage period of one year or less.
Insurance companies have the option to present discount rate fluctuations either in profit or loss or in OCI.

Overview
IFRS 17 includes principles for the recognition, measurement, presentation and disclosure of
insurance contracts issued.
reinsurance contracts held.
investment contracts with discretionary
participation feature issued.
The insurance company shall:
– Identify insurance contracts as those under which the entity accepts significant insurance risk from other parties. Meaning compensating a policyholder if an uncertain future event
adversely affects the policyholder.
– Separate other, non-insurance, parts of the contract.
– Divide the contracts into groups for recognition.
– Measure the groups of contracts at a risk-adjusted present value of future cash flows i.e. the
fulfilment cash flow. Plus a contractual service margin representing profit.
– Recognise profit from an insurance contract over the period insurance cover is provided. If a
contract is expected to be loss-making the loss is recognised immediately.
– Present insurance revenue and insurance service expenses separately.
– Disclose quantitative and qualitative information about insurance contracts and the nature
and extent from those contracts.
The core model is called the core or general model (GM) and is similar to the so called Variable Fee Approach (VFA).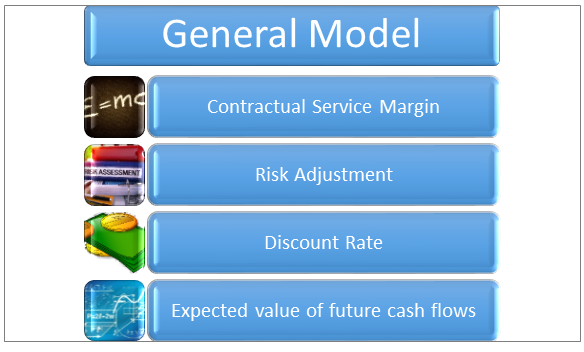 The simplified model is called the Premium Allocation Approach (PAA).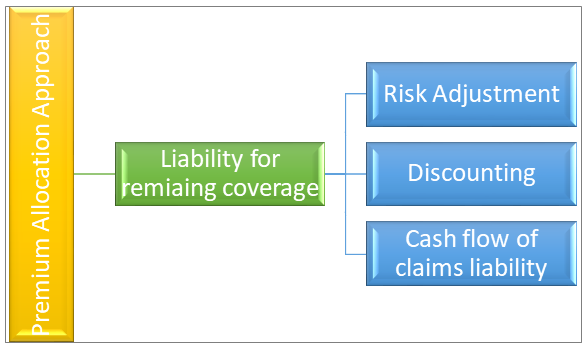 Timetable up till 2022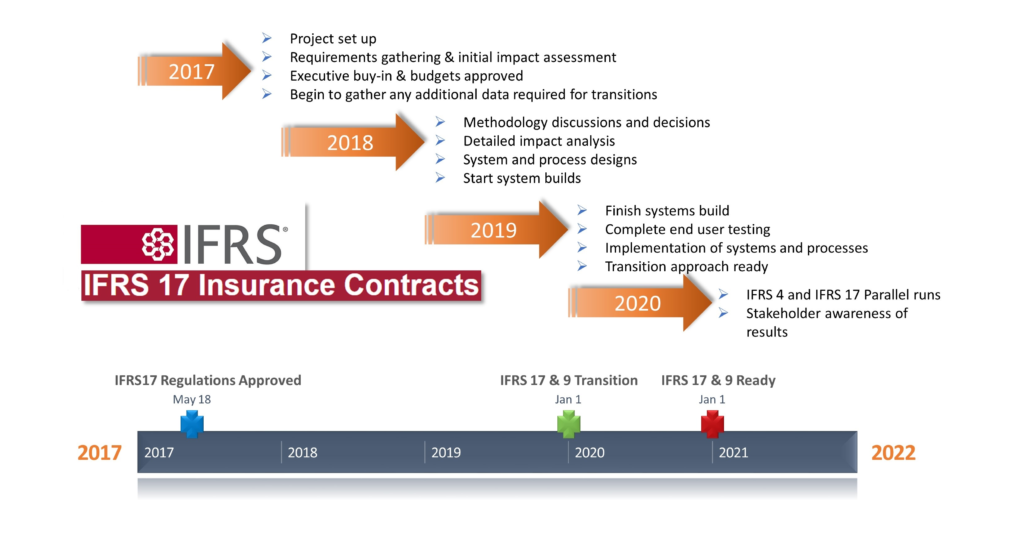 Scope and definition
Under IFRS 17 an insurance contract is defined as
"A contract under which one party (the issuer) accepts significant insurance risk from another party (the policyholder) by agreeing to compensate the policyholder if a specified uncertain future event (the insured event) adversely affects the policyholder."
Compared to IFRS 4
The definition remain essentially the same, the news is that the time value of money has to be considered when assessing whether amounts payable are significant.
Another difference is that IFRS 4 allowed companies to use previous accounting policies whereas IFRS 17 has to be applied to all insurance contracts. This may affect contracts previously classified under IAS 39 or IFRS 9.
Reinsurance
Under IFRS 17 a reinsurance contract is defined as
"An insurance contract issued by one entity (the reinsurer) to compensate another entity (the cedant) for claims arising from one or more insurance contracts issued by that other entity (underlying contracts). A reinsurer applies IFRS 17 to contracts issued and an insurer applies IFRS 17 to the contracts held.
Investment contracts with DPF
Investment contracts with discretionary participation features is defined as
"A financial instrument that provides a particular investor with the contractual right to receive, as a supplement to an amount not subject to the discretion of the issuer, additional amounts:
that are expected to be a significant portion of the total contractual benefits.
the timing or amount of which are contractually at the discretion of the issuer
that are contractually based on:

the returns on a specified pool of contracts or a specified type of contract
realised and/or unrealised investment returns on a specified pool of assets held by the issuer
the profit or loss of the entity or fund that issues the contract"
These contracts falls under IFRS 17 if the issuer also issues insurance contracts.
Excluded contracts
Among the exclusions of the IFRS 17 the following can be found:
Warranties provided by a manufacturer or retailer in connection with sale of its goods.
Employers' assets and liabilities related to employee benefit plans.
Various license fees, royalties etc.
Residual value guaranteed by a manufacturer or retailer, mainly leasing under IFRS 16.
Some financial guarantee contracts (credit risk).
For contracts with fixed-fee services, for instance roadside assistance, IFRS 17 offers a possibility to instead applying IFRS 15. The distinction may be done on a contract by contract level.
Components of the insurance contracts
IFRS 17 requires a company to identify and separate components in the contracts. After separation these may need to be accounted for under other IFRS guidelines.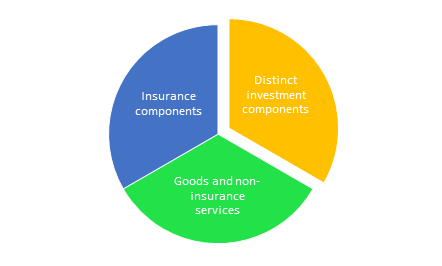 If the insurance contract includes embedded derivatives the company should apply IFRS 9. See image below. Generally IFRS 4 permits voluntary separation of non-insurance components in insurance contracts (unbundling, right image) even though when it is not required.
Under IFRS 17 the regulation is applied to all components that are not required to be separated.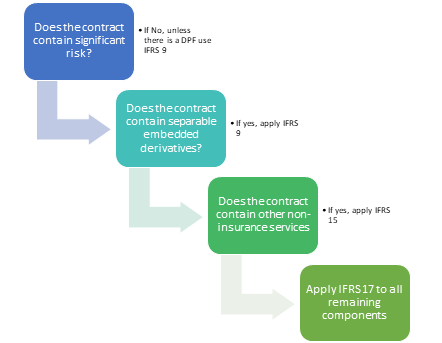 Aggregation of contracts
The level of aggregation deals with grouping contracts for the purpose of recognising losses. First portfolios of insurance contracts should be identified. A portfolio includes contracts with similar risks. After that each portfolio is divided into subgroups:
Onerous contracts
Contracts that have no significant possibility of becoming onerous
Other profitable contracts
The assessment is made on initial recognition and not reassessed. An entity is generally not allowed to have contracts issued more than one year a part in the same group. This is different from the current approach and is likely to limit the possibility to offset profits and losses between years or cohorts.
| | | |
| --- | --- | --- |
|   | Year 2021 Risk-group A | Year 2021 Risk-group B |
| Onerous contracts | Contract 1, 2 | Contract 9, 10 |
| No significant possibility of becoming onerous | Contract 3 | Contract 11, 12 |
| Other profitable contracts | Contract 4, 5, 6 | Contract 7, 8 |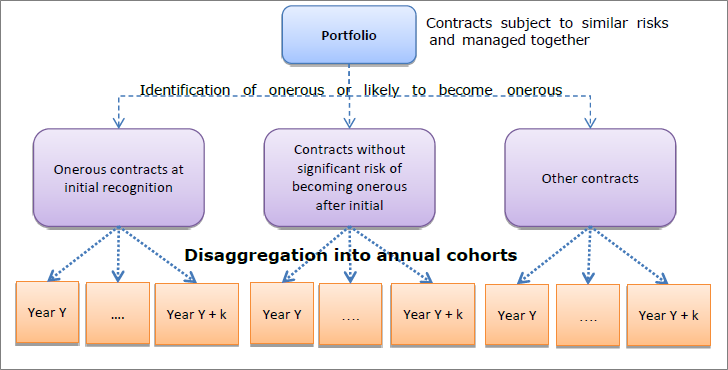 Identifying portfolios
Contracts are assumed to have similar risks if they expects cash flow to respond similarly to changes in key assumptions. Contracts within a product line would be expected to belong to the same group.
It seems like a specific insurance contracts shouldn't be split between risk groups but this remains to be clarified.
Expected profitability
An initial recognition should be made regarding which contracts are expected to be profitable or not. Each group of risks should be assessed individually, see picture above. This can either be assessed by deciding which group they belong to for a set of contracts (top- down) or on a per contract basis (bottom-up).
The assessment should include the likelihood of changes in assumptions which if they occurred would result to making contracts loss-making.
A complication for the reader of the financial statement is that an insurance company may for instance issue loss-making contracts under the assumption that it is likely to be renewed and if so, in total be profitable.
Another one is prohibited grouping of contracts issued more than one year apart. This may reduce visibility of profitability over time and result in profits not being recognised in the correct periods.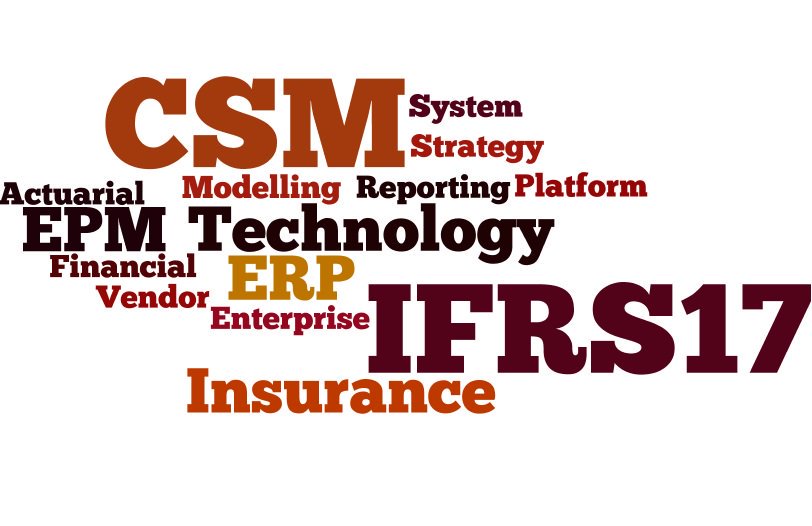 Initial recognition
Initial recognition should be done at the earliest of:
Beginning of the coverage period
When the first payment is received from the policyholder
When a contract becomes onerous
An insurance contract may, at initial recognition, join an existing group of contracts.
Measurement
The core approach is referred to as the general model. In addition to that one there is modifications and simplifications applicable in certain circumstances.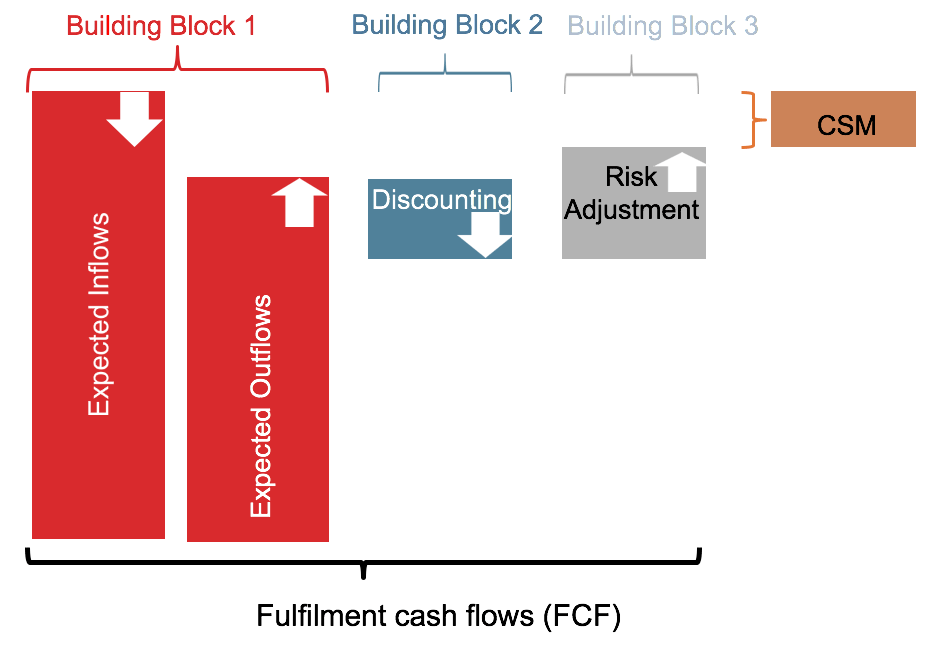 General Model (GM)
The general model is a sum of the following building blocks:
Fulfilment cash flows including risk adjustment and discounting
A contractual service margin
For reporting both should be valued at the valuation date. After the initial recognition this is the sum of the
Liability for remaining coverage
Liability for incurred claims
where both of them have a risk adjustment and discounting applied.
Modifications to the general model applies to
Reinsurance contracts
Investment contracts with DPF
Contracts with DPF
Simplifications to the general model is allowed in some circumstances. This is called the Premium Allocation Approach and does not measure the CSM explicitly.
Future cash flow calculation
These should include all cash flows within the contract boundary. Take into account all available information about the amount, timing, uncertainty etc. The concept of contract boundaries is similar to Solvency II.
Cash flows normally include, for instance:
Premiums
Claims and benefits
Acquisition costs
Claims handling costs
Policy administration
Premium taxes
Some overheads
Some cash flows that should not be included are:
Investment returns
Payments under reinsurance held
Premiums from future business
Product development or training costs
Wasted labour or similar
Income taxes
Example of cash flow:
| | | | | |
| --- | --- | --- | --- | --- |
|   | 2021 | 2022 | 2023 | 2024 |
| Premium | 100 | 100 | 100 | 100 |
| Claims | -50 | -50 | -50 | -50 |
| SUM | 50 | 50 | 50 | 50 |
| Discounting 5% | 47.62 | 45.35 | 43.19 | 41.14 |
| SUM | 177.30 | | | |
Total effect of discounting in the above example is 200 – 177.30 = 22.70 i.e. the effect of applying Time Value of Money.
IFRS 17 does not come with prescribed discount rates as is the case in Solvency II. As always there will be complications for very long contracts (20-30 years) depending on the market.
Unbundling Solvency II vs. IFRS 17
Risk adjustment calculation
The risk adjustment is aimed to reflect the uncertainty in the cash flows. Both the amounts and the timings. This includes for instance insurance risk, lapse risk and expense risk.
Typically risks with low frequency and high severity would generate a higher risk adjustment. Contracts with longer duration would also generate a higher risk adjustment.
Contractual Service Margin
This represents the unearned profit. This feature is unique to insurance contracts and IFRS 17.
The CSM at the reporting period end shows the profit that has not yet been recognised in profit or loss. The profit should be released over the service period, unless the contract is expected to be onerous then it should be immediately recognised in profit or loss.
Premium Allocation Approach
This method is a simplification of the general model.
Simplifications include
The calculation of the liability for remaining coverage
An option not to adjust for time value of money for incurred claims.
The accounting model for this method is similar to the accounting under IFRS 4 and sometimes referred to as an earned premium approach. However there is no separate recognition of deferred acquisition costs and no separate premium receivable line.
As in the general model there is special treatment for onerous contracts. The premium allocation approach is allowed if and only if one of these conditions are met:
The company expects the method to produce results that what not differ materially from the general model approach.
The coverage period for contracts in the group is one year or less.
Many non-life contracts would fall under the second point. For life contracts judgement would need to be applied.
Please find an illustration below where,
BAA is the building block approach
AC is the Acquisition Cash Flow
UPR is the Unearned Premium Reserve
Link to the IFRS organisation and the IFRS 17 standard