Introduction
Artificial intelligence can definitely help in the claims processing. As it often is with technology the key is to automate say 80% of the time/cost and then handle the remaining 20% manually. The reason being, of course, 100% automation is hard to achieve.
Paperwork, manually written notifications, follow-ups, and underwriting are usually boring to do. Automation allows companies to reduce the cost that is spent on routine work and refocus some full-time employees to more creative tasks.
Structured data
If files are digitalized, analysed, and stored in the cloud, documents can be automatically reviewed and rejected in the case of inconsistent information or errors, which allows insurance staff to deal only with consistent and correct information.
The customer data that has been collecting dust in paper archives for decades is no longer an expenditure item in a profit-and-loss statement. If you apply image and text recognition algorithms, these become valuable assets that tell an insightful story about your customers.
Insurance Applications
AI insurance software reshapes claim processing. Ask how long it takes for the insurance agency to make claim decisions. Some claims are complicated, some are not.
Assume that their US land bank was affected by drought. There are thousands of acres across the country sown with crops. How long would it take for employees to gather and process all data required for payout decision-making? There's a good way to cut costs for such projects by employing AI. Machine learning algorithms can calculate detriment using satellite images or drones to explore fields.  It will eliminate the human factor and significantly cut time and cost.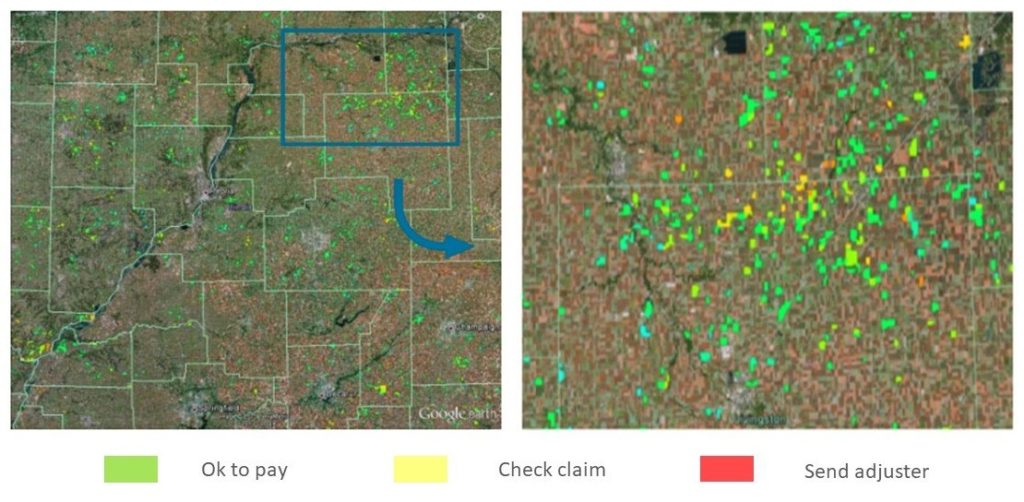 Claim reporting is also changed by a combination of machine learning and mobile technologies. State Farm arms clients with a Pocket Agent app. A customer can send the vehicle image and the claim will be submitted without wasting time on dealing with paper documents or large web forms.
Besides AI-driven automation, claims management gets impacted by a broader spectrum of software solutions.
Claims management is a critical business process of any insurance company, which starts with claim registration and ends with payments to the insured party. Claims management software reduces manual workflow and a number of human-to-human interactions. Clients need less time to apply and smoothly proceed down the path of claim handling. From the insurance carrier's point of view, the company reduces labor costs via automation.
Here is an example of the modern industry standard. Assume an insurance company operating in the healthcare segment.
Claim management software automates information exchange between insurance and healthcare provider systems.
If the company deals with a number of small private practices – which still work with paper documents – the import is streamlined by image recognition algorithms that digitize the documents.
The system calculates coverage and payment for each claim according to set policies.
The system processes claims and sends them to a fraud detection module.
Once the claims are approved, insurants receive their payments.
Software from for instance SAP, Oracle, Patra Corp, GuideWire, Claim Kit, and Insly fulfills standardized needs in claim management tools for the insurance industry. However, the forefront of innovations comes from startups which employ the power of AI, Blockchain, and IoT technologies.
Internet of Things
The old-fashioned style of risk assessment is to rely on impersonalized datasets. Today, endpoint devices and social media can provide large amounts of more personal data. There is really no limit on how much data can be stored or used. The approach can help both insurers and customers – consumers get cheaper or better coverage and highly personalised insurance. While a business gets more accurate risk assessment, stable margins, and satisfied clients. A recent study shows that such a model is doable – customers are ready to share personal data to get cheaper risk coverage. A balanced is needed though from a business perspective, this may cause an unwanted selection of risks.
Chatbots
A possible add-on the the above is chatbots. Each year insurance companies spend thousands of hours supporting customers in the decision-making process, providing standard on-demand information or reports. Chatbots, reporting tools, mobile technologies, and voice recognition algorithms can easily automate these tedious operations. They can perform as effectively as a large customer care center and drastically cut costs in customer support and sales. Not to mention their available working hours at 7 days a week, 24 hours a day.